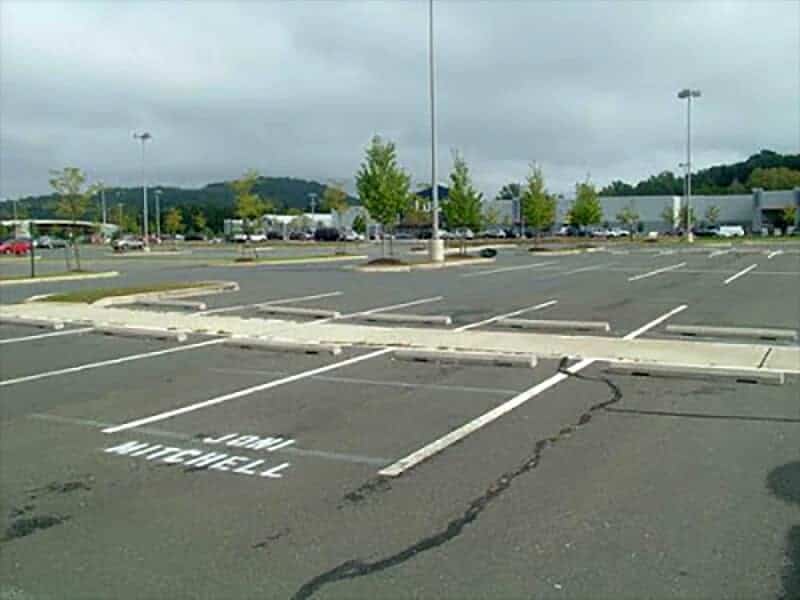 In an increasingly sleek and streamlined art world, it's good to feel a blast of genuine eccentricity every so often. Ron Crowcroft's hilarious and melancholy conceptualism is a tonic for the browbeaten. Maybe it's the sort of thing that might have been made anyway, before trickster pioneers like Nauman, Baldessari and Beuys drew public attention to what could be done with simple means and a willingness to look like an idiot. Crowcroft's works don't need those allusions, though, and they're worn lightly: he makes interventions and tweakings of a generosity and oddness that's delightfully out-of-sync with art world orthodoxy. He engenders a kind of giggly delight evinced by the mild transgression of the kid in school who'd never turn down a dare.
Crowcroft's 'Tom Pile' (2008), part of his 'People Painting' series, is dominated by the title, emblazoned in big block yellowy capitals onto an idyllic sundown background. There seems to be little in common between the screensaverish utopianism of the scene and the frank, blank, monosyllabic label. In fact, the painting is a charity shop find, and the name is chosen at random from a phone book. The influence of Surrealist mix-and-match, no less the paintings of Ed Ruscha, is pretty evident, but what the work brings to these well-trod traditions is a comedy of randomness. Shoved together, the name and the image become a kind of visual double act, each undermining the other with slapstick poetry.
In his 'Artspaces' series, Crowcroft spraypainted famous names onto the tarmac of car parks. While his 'Joni Mitchell' (2008) parking space evokes memories of paving paradise and parking lots, its absurdist incongruity and deadpan municipal font provide a weird little jolt that's funny and strangely sad, like a hopeful fan preparing for a visit that won't happen. There's even one for God, a nice convenient spot for the Apocalypse, just across the street from a Taco Bell.
Crowcroft's 'Ron Shakes Hands' (2008), his performance from last year, involved the artist performing the action of the title with a number of strangers, including some babies and a black Labrador. Each participant was given a commemorative sticker that read 'I SHOOK HANDS WITH RON CROWCROFT' (2008). I like the thought of a Labrador wearing that.