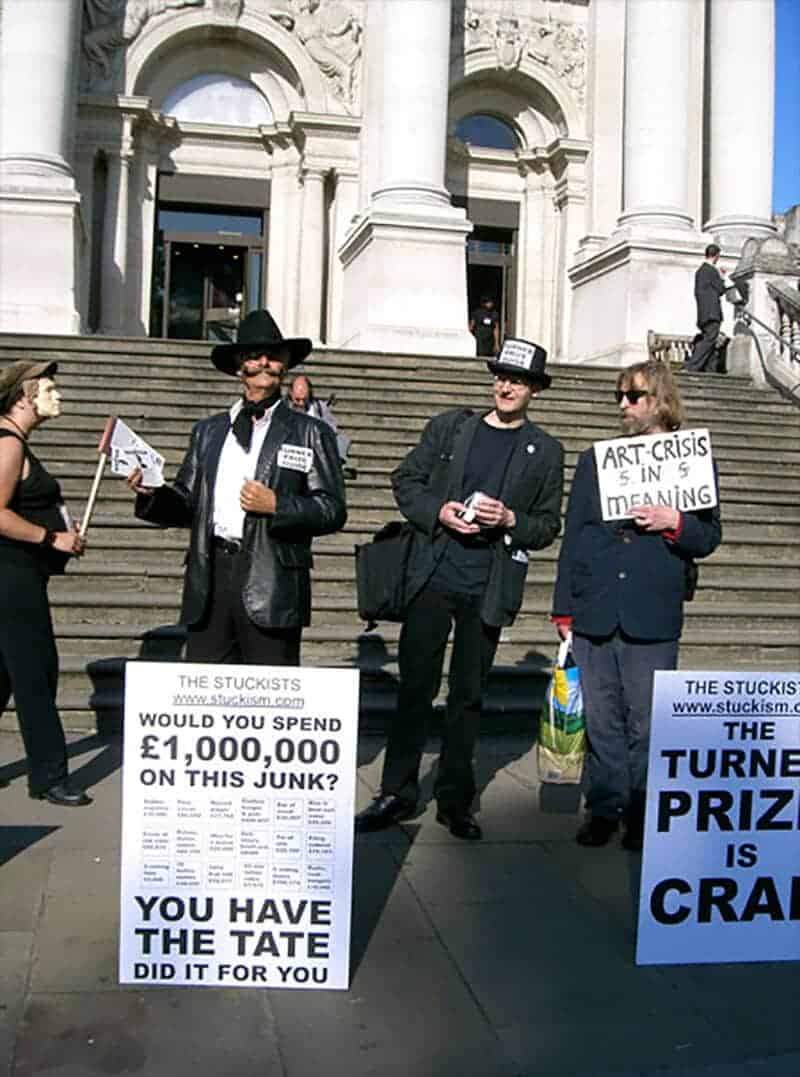 Turner Round, Bright Eyes! (Art:21)
I don't know: maybe there will be a time when the announcement of the Turner Prize nominees won't be greeted with a tiresome trotting-out of hoary old journalistic cliches (yes, I know, that's a cliche too), but not this year. The Times goes with a sarcastic assessment of this year's line-up—Roger Hiorns, Lucy Skaer, Richard Wright and Enrico David—as "a shock to rank with any in the 25-year history of the Turner Prize," announcing that "this year's nominees all paint, draw, or make objects that are recognizably works of art." 'Recognizable to whom?' might be the sensible riposte considering that, for the billions of visitors to Tate Modern every year, the work of the previous year's winner, Mark Leckey, would most certainly be recognizable as art. It's befuddling to see the press lean, year after year, on tired ideas of the artist as wacky japester. The Times claims that "publicity-grabbing stunts are refreshingly absent," but when were publicity-grabbing stunts particularly present? Ok, maybe Tracey Emin's drunken interview on TV (which wasn't one of her works), or Madonna's ostentatious swearing (she wasn't one of the artists) or Martin Creed's lights going on and off (which is kind of the opposite of publicity-grabbing) may be what's being alluded to, but it's hard to see that the current nominees are any more or less avant-garde or shocking or experimental or whatever than in any previous years. Another Times columnist comments that the shortlist "puts craftsman-like skills over conceptual waffle," thereby knocking back 600 or so years of artists trying to do more or less the exact opposite in one fell swoop.
It's a relief to see the Times message board featuring the evergreen adage, "Turner must be turning in his grave" (as though Turner were the epitome of good-taste, MOR painting back in the early nineteenth century, etc, etc) and the deathless Emperor's New Clothes quip ("When will the emperor and his missing clothes be found out?" As though the labor-intensive, thoughtful, and often beautiful work of artists like Hiorns and Skaer was somehow a con-trick played on the public). It's also a bit of a downer to see the Tate publicity department play to the gallery by describing Wright as "the thinking person's graffiti artist," as though "thinking people" couldn't possibly like graffiti. But you know, they've got to be punchy and they were probably wrapping up the press conference and they got asked the same question over and over again, and the press person went for what popped into his/her mind, like in The West Wing, so let's not get upset about that.
Ok. But what of the shortlist? It's quite rare these days to have a complete line-up of good or very good artists (usually half or fewer aren't that great; last year's was very patchy, I thought; the year before (when Wallinger won) was mainly good; the years before were hit and miss) but I think this might be the best year in a very long time. It seems to be generally agreed (in the press and among people I've spoken to about it) that Roger Hiorns looks likely to win for an installation that's since been demolished. That was always part of the plan, but it's made Hiorns' work a kind of 2000′s version of Rachel Whiteread's demolished and never-betteredHouse, for which she won the Turner in 1994. Hiorns' Seizure from last year has already taken on a kind of legendary quality, like Dylan's first electric gig or the invention of fire: you had to be there, man. It also means that the work has taken on the lustre of great lost works of the past, not only paintings stolen (like this one) or destroyed (like this one) but paintings that survived only in textual descriptions, recreated by later artists in a process called ekphrasis(like this one).
For Seizure, Hiorns filled a moribund council property and filled it, through an arduous and probably dangerous chemical process that I'm not even going to begin to pretend to understand (suffice to say there are photos of the artist and assistants wearing face masks and rubber gloves with steaming pipes and canisters around them, like in Weird Science), the result of which was that the flat—three smallish rooms on the ground floor of a 60′s concrete block—was filled, on every surface, with hard ultramarine crystals that glittered and crunched underfoot. Visitors had to wear thick rubber boots and gloves which made you stagger and wobble about in a way that felt appropriate in the space itself, since the blue surface had something of the quality of the deep sea. Your movements slowed. The sound was crunching and crackling and squeaking rubber (watch a shaky video of the experience here). Hiorns had made a styleless 60′s building into something like the wreck of the Lusitania through a simple (I mean, if you know how) automatic chemical process. I want Enrico David to win, really (here is Chicken Man Gong; any questions?), but it's pretty likely that Hiorns will walk it, which is not only not a bad thing but might signal an improvement: not in the art itself, but in the rehabilitation of contemporary art in the mainstream press. It'll be great!!
Turn It In: Phoney Bewilderment and the Turner Prize (Art Review)
Another year, another Turner Prize, another verb for what JMW Turner must be doing in his grave (turning / spinning / smouldering / mouldering / weeping / wailing), another spirited defense that Turner too was controversial in his day, another press pantomime of phoned-in silly-season pieces and letters to the editor with references to emperors' clothing and the comparative artistry of children. And as tradition dictates, the Stuckists (like the Muppet Show judges) are wheeled out to shake a fist at the supposed elitism or conceptual opacity of the works on display.
Selectively amnesiac arts journalists, who have spent the rest of the year covering contemporary art shows of a comparable nature, fall back on faux-bemused shorthand descriptions of the works on show, which then form the basis for the inevitable barrage of outrage from concerned citizens everywhere. The shortlisted artists are announced several months before the opening of the exhibition (which at best features, confusingly, a warmed-over version of the original work for which the artists are being commended, or something completely different), heralded by headlines that reek of Palinesque no-nonsense pragmatism. 'A Mannequin on the Loo and Broken Crockery: It Must be the Turner Prize', huffs The Times. The script is so predetermined and ingrained that The Independent had an almost identical headline: 'A mannequin on a toilet and dry porridge – it's the Turner Prize'.
Of course, smug dismissal of the works on display is par for the course. Cathy Wilkes' installation I Give You All My Money (the easy target of those headlines) is described with disdainful lack of interest: 'bits of discarded wood' (hey: didn't Picasso use the same material 100 years ago?) 'appear to bear no relation' to the checkout counters that are part of the work. Tate curators who earnestly attempt to defend the work are sneered at ('saw deep meaning in the installation' – hah! As if!). The authorial voice is that of a 13-year-old boy who bolshily describes everything as 'gay'. The Prize is routinely defended because it supposedly generates healthy 'debate', but what is really being debated here?
What's particularly frustrating about these rote responses is their disingenuousness, as if these reporters and critics have never seen anything as crazy as what's in the Turner Prize exhibition – as if it was as revelatory, shocking and upsetting as the 1913 Armory Show. And as if the thousands of visitors to Tate Britain and Tate Modern aren't by now used to seeing art that isn't Gainsborough.
Long gone are the days of the Young British Artists, whose works operated within a tabloid context and engaged with the language of populism themselves (what is Marcus Harvey's perpetually cited Myra (1995), the photorealist portrait of Myra Hindley composed of children's handprints, but an illustration of tabloid sensibility?). There's an underlying disappointment in the coverage of the Turner Prize that has increased as post-YBA artists retreated from the bald and media-friendly statements of Hirst and Emin et al. Last year's coverage of the Mark Wallinger win was almost melancholy in its attempts to provoke shock out of a public that is more sophisticated in its understanding of contemporary art than the press gives it credit for. No one seeing Wallinger's film, Sleeper (2005), would come away describing it just as 'a man in a bear suit banging about in a building', just as no-one seeing Runa Islam's Be The First To See What You See As You See It (2004) would assess its cool high-style beauty as 'a mighty smashfest', as one senior arts correspondant gleefully did.
The whole point of the prize seems more and more obscure as each year comes around. The charade of dismissal looks wearier and less energized by a genuine sense of interest or dismay as before; the ascendence of Tate Modern as the rainy-day destination of choice has immunized most of the public to shock; contemporary art has engaged the public in a way unthinkable ten years ago (see the overwhelming response to Olafur Eliasson's Weather Project (2003), for example). This year the Turner Prize failed to find a sponsor – maybe no brand sees much cachet in it, either as a generator of cool controversy or avant garde aura. Its return to Tate Britain after last year's showing at Tate Liverpool looks like a final lap of honour, flat-footed and puffed-out. Contemporary art isn't what it was when the Turner Prize dragged dead sharks into the red-tops; that's a good thing, and it may be time for Tate to concede defeat – or victory.
'Turner Round, Bright Eyes!' originally published in Art21 Magazine

'Turn It In: Phoney Bewilderment and the Turner Prize' originally published in ArtReview