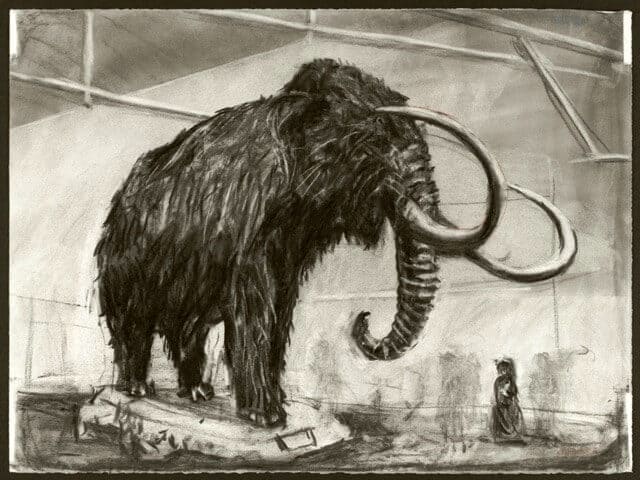 Watching a William Kentridge animated film is like being read a meandering story that the teller only half-remembers. Some parts of the tale are repeated, some are ditched, some take an unforeseen turn, and others accrue meanings the teller himself couldn't have planned. As with many artists working within the shadow of a brutal historical situation – be it the Dada artists creating absurdist "anti-art" as World War I began or the Surrealist Max Ernst subverting linear plotlines in his collage-novels made during the birth of Nazism – Kentridge tinkers with the tools of narrative to create pointedly absurdist satire. The long shadow cast over Kentridge's work is the history of apartheid in his native South Africa, which informs both his subject matter and his approach to its articulation. Things appear to make sense, then don't. In Ernst's 1933 collage-novel, Une Semaine de Bonté, for example, repeated visual motifs and chapter headings point to a coherence that's never actually fulfilled, in a parody of the societal reorganization proposed by the then-ascendant Nazi party. Similarly, the reappearance in a number of Kentridge's works of two characters, Soho Eckstein and Felix Teitelbaum, suggests an episodic structure to his body of work as a whole, but as with his artistic predecessors, subverting expectations has political meaning. For Kentridge, character is the crucible by which he explores the history of a national trauma.
Soho Eckstein and Felix Teitelbaum feature in a large number of Kentridge's prints, drawings, and animated works. These characters undergo various kinds of transformation but they themselves don't fundamentally change. They have familiar attributes and features, becoming one of the means by which we recognize a work by Kentridge. Soho is a Johannesburg property developer and the archetypal capitalist fat cat with his well-lunched, jowly face; perpetual cigar smoking (often blowing smoke-rings that recall the zeroes at the end of enormous sums of money); and dark pinstriped suit, worn even in bed. Felix, by contrast, is a more introverted character, often seen naked and very often seen from behind, his face a dead ringer for the artist's. Simply put, they're dark versus light. Soho is drawn in jagged, thick black lines; Felix with a more delicate, washed-out gray. One bullishly dominates the screen, inviting our dislike; the other looks on at actions we can't always see, vulnerable in his nudity and more evidently sympathetic. What springs to mind is a good-versus-evil dialectic familiar from narratives the world over. Kentridge sets up these archetypes then slowly picks them apart, playing on his viewers' assumptions about who they are and what they might represent.
Kentridge's use of archetypal characters has its roots in the medieval Italiancommedia dell'arte tradition, in which itinerant groups of masked actors, garishly costumed as a set of stock characters, played out farcical interactions to the delight of the audience. Commedia actors invariably performed at the edge of town, not being officially sanctioned by town councils who were perhaps wary of their anarchic connotations. For this reason above all, many avant-garde artists have seen kinship withcommedia. Kentridge's use of archetypal characters has its roots in that same tradition of political and social satire, masked in archetypes and made from a socially extrinsic position. The outsider hides behind a mask to comment on society. In doing so, he is made both more visible and less identifiable.
For Kentridge, the use of Soho and Felix as veiled or disguised figures has a more personally significant meaning for the artist. The word apartheidrefers, literally, to separateness. The characterization of Soho and Felix – the land-owner/capitalist and melancholy onlooker – dramatize the artist's complex personal apartheid, his own internal divisions and separations. "Separateness" is an idea of particular importance to Kentridge, a descendent of German and Lithuanian immigrants to South Africa. The artist's horror at the atrocity of apartheid is tempered by an awareness of his white family's own culpability within its construction and maintenance. Yet there's an even deeper, distant resonance: Kentridge's Jewish descendents fled to the country from the Russian pogroms at the end of the 19th century. Kentridge refers to apartheid as "the rock," saying of it: "you cannot face the rock head-on; the rock always wins." We can take apartheid here to refer equally to other historical projects of racial discrimination, such as the Holocaust. The dramatization of Soho and Felix, then, is both a means of obliquely addressing the trauma of the recent past and a way of probing at the much deeper historical roots of enforced separation. By making his characters enact themes of division and kinship, Kentridge attempts to scale or circumvent the forbidding "rock" of history.
In the short animated film, Johannesburg, Second Greatest City after Paris(1989), Soho and Felix are introduced individually by means of titles that appear onscreen. Soho dominates the space of the image, the crude dark charcoal strokes that striate his body and face emphasizing his grotesque presence, like one of the inter-war German industrialists portrayed by Georg Grosz. Felix's namecard appears on one of Soho's billboards straddling an incessantly car-clogged highway. He looks down, naked and apparently indifferent, from an elevated vantage point. Like medieval saints, each of these characters is given his own particular iconography, culled from the four elements of earth, air, fire, and water. This both sets the characters up as basic opposites and makes glancing reference to "the rock" ("earth") of the artist's troubled national past. The implication, too, is that Soho and Felix are more than mere pawns within a plot line — they're somehow mythic, representatives of the fundamental basis of all things, as espoused in ancient philosophy. By touching, however delicately, on such universal beliefs, Kentridge has his characters enact narratives that recall ancient creation myths. The irony of such allusions – especially within a country seeking to recreate itself within the shadow of historical tragedy and horror – gives Kentridge's films their strange mixture of levity and pathos.
Soho is almost invariably associated with air, sometimes satirically (the declarations blasting from the megaphones that dominate the landscape inMonument, 1990), and sometimes pathetically (the machine regulating his breathing in History of the Main Complaint, 1996). In this sense, Soho represents satire drawn with a broad brush: the powerful made powerless, a staple of the commedia tradition and a clue to Kentridge's satirical bent. Soho fills reams of paper with typed instructions and plans that flutter and fade like the coils of smoke from his cigar. Even his breathing – slow, heavy, his big shoulders rising up and down – suggests a man of great physical appetite, a parallel for his avaricious capitalism made most explicit in the short animation Mine (1991). That he's often surrounded by telephones – one even appears in an X-ray of his ribcage – has a kind of sadness about it. Soho, the great bellower and amplifier of instructions, is never granted meaningful contact with another human being in Kentridge's films. Kentridge also denies him the power of speech, making his bluster amount to no more than hot air. When alone – as in Tide Table (2003) – he sits there, struck mute, breathing hard. Kentridge's development of Soho's character, from stereotype of capitalist rapacity to figure of lumbering impotence, is part of the artist's project of exploiting and slowly dissecting cultural archetypes. It's the artist's own ambivalent relationship to his own country's past that produces this ambiguity.
Felix, by contrast, is most often affiliated with water. One subtitle inJohannesburg, Second Greatest City After Paris reads: "Felix Teitelbaum's ANXIETY flooded half the house." Quietly reading by himself in the bathtub (in marked contrast to Soho's incessant typing, smoking, gesticulating), Felix fails to notice the water spilling over the sides. He's lost in lusty dreams of Mrs. Eckstein, Soho's wife and Felix's comely object of desire, whose body parts materialize on a floating sheet of paper in the bath. (Even Soho appears at one point, but he's quickly crossed out, like a thought Felix didn't mean to have).
In Sobriety, Obesity & Growing Old (1991), Felix's desires and anxieties – his unbridled id – pour into Soho's megaphones as water stemming the flow of hot air. Then, a tiny fish slips from his mouth onto Mrs. Eckstein's sleeping chest. Soho looks on as the title "SOHO'S EMPIRE IN DISSOLUTION" appears in a framed photo on his desk. His tower blocks smash open and collapse. But there's pathos to the crumbling of Soho's empire, too, which figures as a leitmotif in Kentridge's films. In the filmStereoscope (1999), Soho's buildings explode, disintegrated by jets of laser-like blue; rioting looters fill the streets and, in the final scene, Soho stands alone, silently, in an unfurnished room as water seeps from the pockets of his suit, filling the room like an unstoppable flood of tears.
For all their apparent opposition, there's something inextricable about Soho and Felix. They are, in a sense, foil aspects of a single character – Kentridge's own. The artist has described them and his relationship with them as "not so much a self divided, but the artist as mediator between several different factions of the self." In other words, Soho and Felix embody various aspects of white South African history translated through Kentridge's own personal experience. Kentridge – a white South African, descendant of immigrants fleeing persecution – allows Soho and Felix to enact their own troubling inner separateness. For every Felix (the powerless, anxious observer, looking on from the sidelines) there's a Soho (the self-interested and voracious opportunist). For Kentridge, a history of land seizure and racial segregation is accompanied by a retrospective guilt and desire to redress these imbalances. Soho and Felix are the personification of the schizophrenic nature of post-apartheid South Africa, and that fluctuation – between avarice and austerity, opportunism and shame – makes Soho and Felix, together, a kind of national self-portrait.