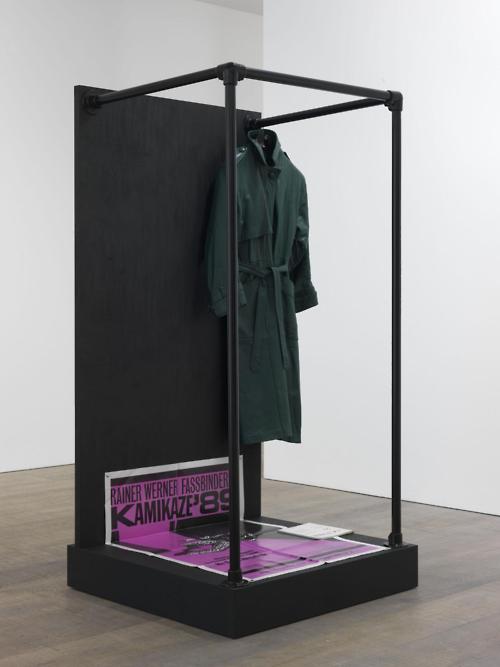 Tom Burr is a sensual thinker. In his latest show at Modern Art, intellectual seduction comes in the form of draped and dangling textiles (leather, denim, wool), their familiar textures a sculptural meditation on the nature of clothing, its propensity for disguise as well as warmth. Rucked grey blankets, tacked against squares of black-stained plywood, recall the photographic elegies of Felix Gonzalez-Torres's unmade beds, and like them memorialise the movements of prone bodies. Their titles – Last Night, Cover Me Cautiously, Patterned After Pleasure (all 2011) suggest erotic melancholy, their fields of roiling wool a performance of Romantic yearning. A denim shirt, brown jacket and trench coat, meanwhile, provide the period colour: the utilitarian sobriety of the early 1980s. As in Burr's previous work, this show takes a twentieth-century historical character – here, filmmaker Rainer Werner Fassbinder – as its basis for an exploration of the relationship between identity and artefact. Burr conducts loaded objects around an absence, sad signs pointing towards a void.
Fassbinder is felt as a more active presence here than in previous Burr exhibitions. A freestanding black wooden display case has a poster for Fassbinder's last acting role, in 1982's Kamikaze '89, draped along its base, with a copy of October, also from 1982, cracked open against it. The abutment of the two artefacts attests to a doubling in Fassbinder's cultural identity (the avant-garde filmmaker of the austere academic essay, and the corpulent actor in the leopard-skin suit in the garish sci-fi). The green leather coat hanging from the rail above – tightly belted, as though put away for the winter – draws meaning to it: Fassbinder's fondness for leather bars, a lover's suicide by hanging, anonymity, disguise. Meanings accrue.
Burr allows objects to vibrate in associative resonance. Nothing is forced. The drawing pins that suspend the wool blankets in their baroque folds have a kind of calm, almost surgical precision, and there's a delicacy in Burr's placement that eschews the postpunk energy of the period with which he's concerned. And yet there's a quiet anarchy in Burr's approach to the stuff of art. The inverted spatial relationship of the blankets made to hang on the wall (sculpture doubling as painting) is echoed in reverse in Shades of Green (2011), a low stage draped in green window blinds. The protective enclosure they imply echoes in the brown paper 45rpm record sleeves in Fade One and Fade Two (both 2011). The missing sensual black of the vinyl, whose curves still cling, impressed, to their paper cases, provides further allusion to the missing heat of human emotion, as well as riffing on Burr's draped vinyl pieces such as Bitch, Immediately After Vinyl (2004). Disguise is, after all, preservation too, and the shading of the light stops the record getting warped. LikeKamikaze 1989, a bad film made interesting by the poignant inaccuracy of its vision of the future, Burr's work preserves a way of thinking, pinning it, however quixotically, to the wall, in echo of Johan Huizinga's advice to the historian: 'He must constantly put himself at a point in the past at which the known factors still seem to permit different outcomes'.
Images courtesy Stuart Shave Modern Art